Community Supported Agriculture
Our CSA program provides the community direct access to high-quality, fresh produce grown locally. As a member of our CSA program, you support a sustainable family farming, the local economy, and healthier living. The benefits include sharing in the farm's bounty as well as satisfaction from connecting with your local family farm.
Your box was always fresh and very well packed.. We will be participating for years to come . So nice to support LOCAL growers that's for sure.
Your CSA is the best I've been a part of! Great delivery, fresh and healthy veggies, perfectly packed, etc.
Anything from Costa Produce Farm is the best 🙂
DWe are committed to growing all GMO Free vegetables, so supporting our CSA programs supports sustainable agriculture. Started from seed, our produce is planted by hand, hand hoed, hand picked and grown with great care—because we care about what we feed our family! In the end, you're provided the highest quality, freshest, nutritious produce around.
Once you purchase a share of Costa Produce Farm through our CSA, you'll receive weekly shipments of our finest produce for 12 weeks from mid June through mid September at a convenient location across the metro area. Various share sizes and payment options are available to purchase.
In your CSA box, each week you will find 4-7 different varieties of veggies, herbs, and fruit including:
Sweet corn, tomatoes, cauliflower, lettuces, hot peppers (jalapenos, poblano, hot banana, Anaheim), green bell peppers, red bell peppers, cucumbers, zucchini, potatoes, squash (many kinds), radish, swiss chard, carrots, beets, green beans, broccoli, kohlrabi, radish, basil, parsley, chives, mint, onions, local honey possibly, celery, collard greens, cabbage, kale, fennel, pak choi, and more.
Once the season approaches and deliveries are underway, all members will receive weekly emails. We will keep you updated on what to expect in your box that week and give you recipes to try!
A MINI Share from our CSA program feeds 1-2 people per week. A MINI Share is a Third Bushel box size of awesome veggies. Cost $325 for 12 weeks.
A Half Share from our CSA program feeds 2-4 people per week.  A Half Share is a Half Bushel box size of awesome veggies. Cost $380 for 12 weeks.
A Full Share from our CSA program feeds 4-6 people per week.  A Full Share is a Bushel box size of awesome veggies. Cost $695 for 12 weeks.
Costa Produce Farm has been USDA Food Safety Certified for the last 10 years. Being good stewards of the land, we use minimal sprays and fertilizers. We are committed to growing the highest quality produce with sustainability and your safety in mind. Although not being certified organic, many of our crops are never sprayed with pesticides. Commercial and organic fertilizers or herbicides are used in accordance to strict labeling guidelines.
CSA Sign Up Deadline is May 31st.
All CSA Members are invited to our Farm Tour Day on June 17th!
E-vites will be sent with more info. Mark your calendar! 
Sample of your CSA box mid season.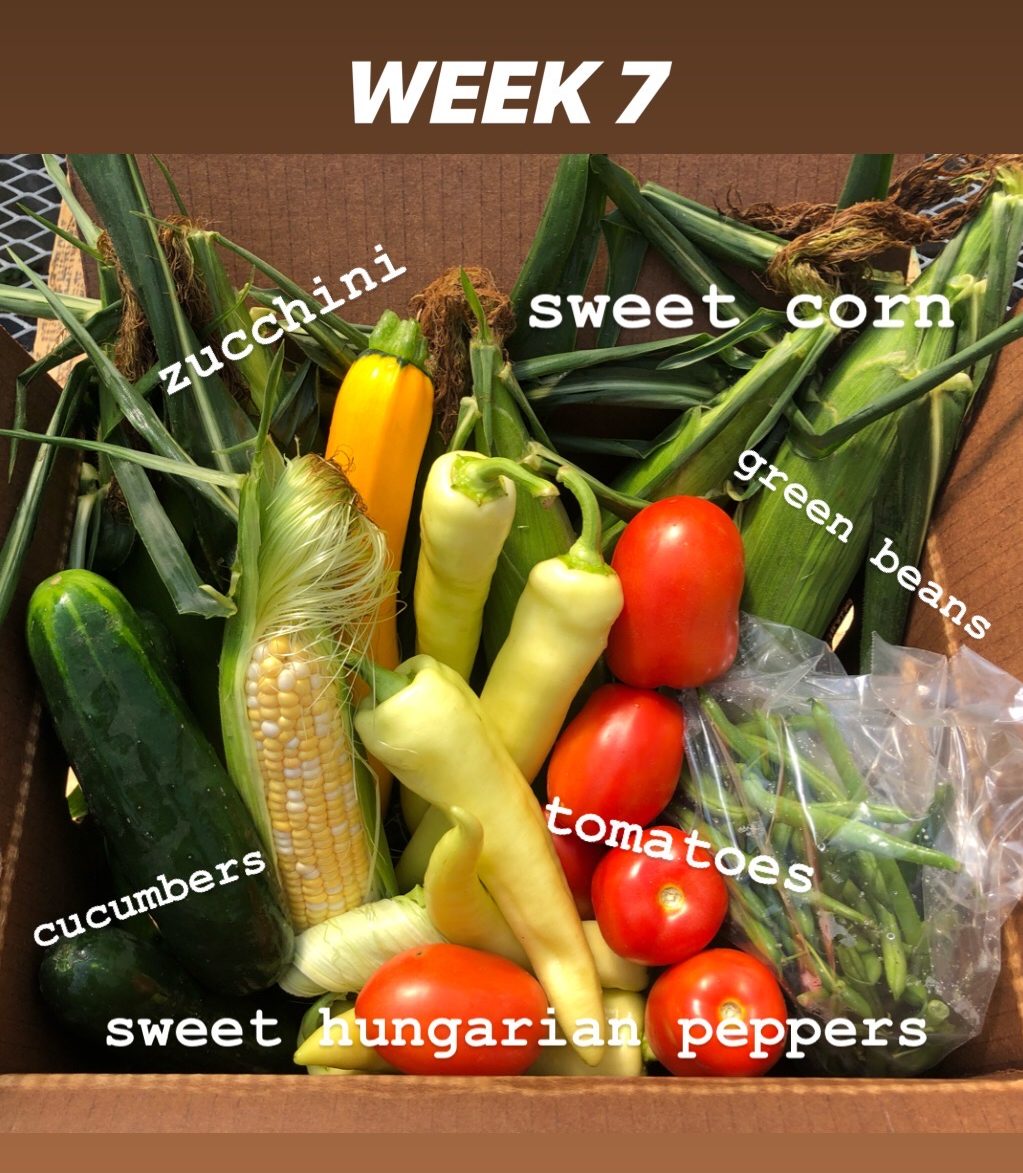 **Create Your Own Pickup Site–Join together 8 or More Friends,
Co-workers or Neighbors and we will deliver to your location of choice!!
 Email us at info@costafarm.com
to set up your personalized delivery.